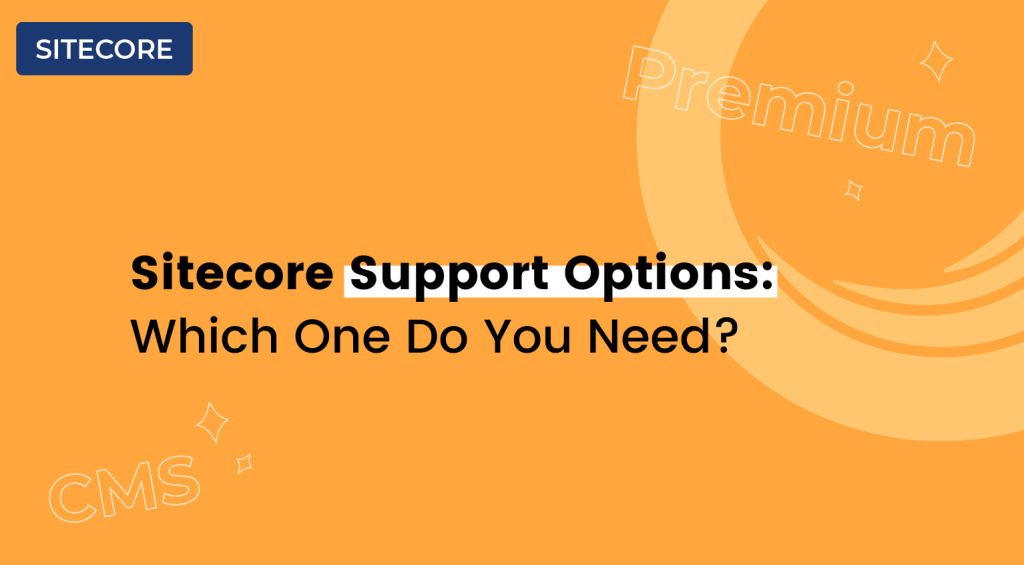 If you're using Sitecore to power your digital experiences, you already know that this enterprise-level content management system offers robust features for delivering personalized content and streamlining workflows. But since you're reading this article, you're probably wondering about Sitecore's capabilities at handling issues and mitigating errors.
Below, we explore the various support options available to Sitecore users and help you determine which one might be right for your organization.
What Type of Support Does Sitecore Provide?
Sitecore offers three types of official support. Two of them rely on Sitecore Support and Self-Service Portal, which is available to any active Sitecore Customer, Partner, or Affiliate company. To access the portal, you need to have your account registered here under your business email address (personal addresses may not be accepted).
By accessing the portal, you get:
Sitecore Standard Support – covers lower-priority issues and provides expert responses to your questions within 1-3 business days.
24×7 Sitecore Premium Support – covers critical issues and guarantees professional responses to your queries within just 1 hour on any day of the year.
If – for any reason – you don't have access to the portal, you can always leverage open-source Sitecore support. It allows you to use free and helpful official resources, including Sitecore's Community Forum, Documentation Library, and Knowledgebase.
Benefits of Using Sitecore CMS Support
Since Standard and Premium options are available to all Sitecore customers, they address the most popular issues and questions. By relying on the official Sitecore support package, you opt for expert and prompt services, such as:
Resolution of installation and development issues as well as production incidents in all products.
Delivery of patches or hotfixes to address product defects.
Releases of security updates.
Version support to help you upgrade to a newer Sitecore.
SaaS Sitecore product support via handling unavailability or performance issues of Managed Cloud, OrderCloud, Content Hub, etc.
Expansion or correction of the guidelines or tips in the product documentation.
Mind, however, that the first two points come for free only during the mainstream phase of Sitecore's support lifecycle. That is, for 3 years counting from the version's initial release. In the sustaining and extended support phases, Sitecore will charge you for these services or make a reasonable request to upgrade your solution to the version in the mainstream phase.
Boost Your Business Expansion with Sitecore Web Development
Limitations of Official Sitecore Support
Time constraints and possible additional costs aren't the only limitations of official Sitecore maintenance and support. As you've probably noticed from the list above, the services provided by Sitecore's team don't cover any customizations, including:
Solution configuration
Design changes
On-premises deployment
Code modifications in languages other than C#
Optimization (performance tuning, database optimization, backup and recovery, etc.)
Moreover, the team doesn't support Sitecore users with system administration tips and doesn't reply to any on-demand best practices requests or questions related to the use of their product (including any 'how-to' questions).
Why Consider Sitecore Partner Support
Sitecore's decision to limit its support services is quite rational. Given the large number of clients and their environments, the amount and nature of the issues would be too overwhelming to effectively address each of them. So, while offering high-level assistance, the Sitecore team remains rightfully focused on its core mission: improving and evolving products.
Sitecore partners, or Sitecore support agencies, are the ones who help to bridge the gap and provide more granular services. On their website, Sitecore openly states that Sitecore Solution Partners can even have access to their Self-Service Portal on clients' behalf. But apart from that, such partners – SaM Solutions included – can offer comprehensive implementation and post-implementation support.
Implementation support
Sitecore audit and optimization — If you already have a functional Sitecore solution, a Sitecore support agency can help you optimize your system. This may involve performance tuning (including page load acceleration), database optimization, setting up backup and recovery, and recommending features, functionalities, or even newer Sitecore versions or products.
Consulting and planning — a Sitecore partner will work with you to develop a detailed plan that outlines the scope of the customizations, the timeline, the budget, and the resources required. This planning phase is crucial to ensure that the Sitecore implementation is successful and meets your business requirements.
Implementation and integration services — A Sitecore partner company can also help you deploy and configure your solution or customize an existing one by developing custom features and performing integrations with any third-party solutions you use.
Post-implementation support
Training — After finishing Sitecore implementation, a support agency can provide training to your staff and share best practices to ensure that everyone is familiar with the system and can use it effectively. Any 'how-to' questions are more than welcome here.
Sitecore maintenance — Ongoing maintenance is essential to guarantee that the system is always running smoothly. A partner company may provide a range of Sitecore support services, including L1-L3 support, continuous performance optimization, and regular security updates.
Sitecore upgrade and migration — Your business requirements and the relevance of your current Sitecore version can change over time. To ensure that your solution is up-to-date and fully meets your needs, a partner agency will help you safely migrate from your existing system to the version of Sitecore you choose.
Turn to SaM Solutions for Professional Sitecore Services
With over 30 years on the IT market and more than 10 years in Sitecore, SaM Solutions excels in delivering top-notch Sitecore-driven experiences. We don't just cover implementation and post-implementation support phases but go above and beyond to bring real value to our clients.
Our team, supervised by a four-time Sitecore MVP in technology, has already helped Sitecore customers achieve 4x faster website performance, a 10x reduction in website support tickets, and a 3x growth in conversions. If you also want to reap such benefits, contact our team to discuss your business case and reflect your individual needs in a custom SLA.
F.A.Q.
Are there any additional costs associated with using Sitecore support?

Yes, once your version's mainstream support ends, some of the services that we've outlined in this article will require additional costs.
Are there any guidelines or best practices to follow when using Sitecore support?

There are no specific best practices or guidelines but make sure that you have a dedicated resource who you can trust to competently communicate with Sitecore representatives.
Is there a community or forum available for Sitecore users to get help from?

Yes, there's an official

Community Forum

hat you can access even if you're not a customer.