SAP Commerce Cloud (ex. hybris) Development Services | SAP Customer Experience
The leading solution in eCommerce and omnichannel marketing from enterprise market giant SAP.
What We Do
Experienced SAP Commerce Cloud Professionals
SaM Solutions understands the complexity and knowledge needed to effectively utilize SAP Commerce Cloud (SAP Hybris) solutions. Our SAP development services team features our company's most experienced developers.
Beyond SAP Development Services
In addition to being experienced SAP Commerce Cloud professionals, we have an extensive background in eCommerce, IoT, embedded systems, mobile, enterprise CMS platforms, custom software, and modern front-end/back-end technologies. We create truly custom solutions.
Certified SAP Silver Partner
As a Silver Partner of SAP, SaM Solutions has access to one of the most extensive portfolios of multi-channel commerce solutions on the market.
SAP Hybris Team Growth
SaM Solutions has strategically aligned with local universities and organizations to help grow new and seasoned developers in Java technologies and the SAP Commerce Cloud (SAP Hybris Commerce) platform. We have a strong dedication to development sustainability.
Your Trusted Strategic Partner
SaM Solutions prides itself on its high customer retention rate. Some of our original US customers have been with SaM Solutions for over 13 years. Our focus is on continuing to create strong relationships centered around mutual growth.
Global Leverage
We've been operating in the US since 2004. SaM Solutions US manages SAP development services projects domestically while overseeing the company's remote teams based throughout Europe. Our international presence creates a clear communication workflow, as well as availability during critical times.
SaM Solutions' SAP Commerce Cloud and C/4HANA Expertise
8

Years of Experience

80

SAP specialists

29

SAP Certified Specialists

30

Completed SAP Projects
What You Get
Greenfield Implementation
SaM Solutions has completed dozens of unique experiences implementing SAP Commerce Cloud Solutions. Our seasoned SAP professionals can guide any project from inception to optimization.
Project Assessment & QA
With an extensive background in SAP development services, SaM Solutions streamlines the time needed to identify key tasks to build and test successful environments while mitigating risk.
Functional Improvement & Solution Refactoring
Are you looking to optimize your current SAP Commerce Cloud Solution? SaM Solutions can analyze your current solution and make expert recommendations on the latest features, functionality, and performance improvements.
Rollout Projects
With multiple locations in Europe and the United States, SaM Solutions makes it easier to expand operations from a single site to a global scale.
Upgrade Projects
Is your SAP Commerce Cloud running on an outdated or older version? Our SAP development services can help you upgrade with minimal downtime and business disruption. Take advantage of the newest SAP Commerce Cloud functions that can improve your business.
Integrations and IoT
Does your organization have a need to bridge the gap between digital and real-world experiences? SaM Solutions has created an innovative cross-technology lab featuring IoT and embedded software expertise combined with eCommerce, mobile, custom software, and CMS solutions.
Technology Partnerships
Toolbox
Languages and Frameworks
Java Spring (Core, MVC, Integration, Security), Jquery, Node.js, Angular, Spartacus, Vue.js
Authentication
SAML, LDAP, Oauth
Integration
SOAP, REST, Odata, DataHub, SAP Cloud Platform Integration, HotFolder
Build & Automation
SonarCube, Checkstyle, Pmd, Findbugs, jenkins, GitLab, Git, Selenium, SoapUI, JMeter
Project Management and Architecture
Jira, Confluence, MS Project, draw.io, EA, MS Visio
Databases
MySQL, SAP HANA, Oracle, MS SQL, MS Azure SQL, Amazon Aurora on AWS, HSQLDB, MariaDB
Our Team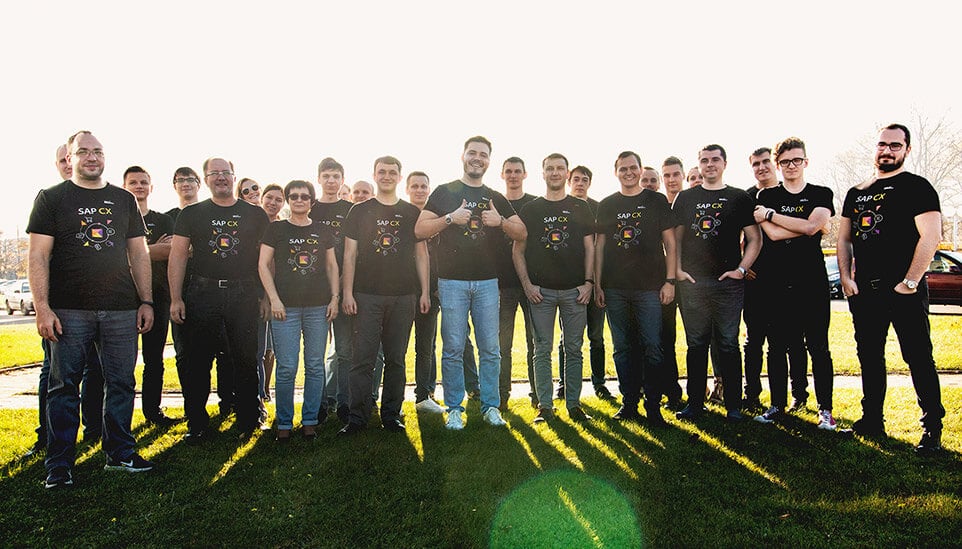 The reason we've been able to grow to over 800 global employees is simple: our teams are some of the brightest and most dedicated people in the industry. Our diverse, multinational company culture results in an atmosphere dedicated to growth, customer success, and developmental creativity.
FAQ
What is SAP Hybris?

SAP Hybris is an eCommerce platform comprising a group of software products for developing applications for mid-sized and large companies. With SAP Hybris, you can cover all aspects of eCommerce development, including sales, marketing, commerce, customer service, and data analytics.
What is SAP Hybris called now?

SAP Hybris is currently known as SAP C/4HANA or the SAP Customer Experience (CX) suite. The rebranding was made to reflect the advancement of products the company offers. In the new name, "C" stands for the customer, "4" represents the fourth-generation CRM, and HANA is the database it runs on.
How to choose the right SAP CX development company?

If you are searching for a reliable SAP partner, the most important aspect you should consider is years of experience. Also pay attention to domain expertise, clients' testimonials and whether the company provides post-production support and maintenance.