SAP Customer Experience
A five star eCommerce and Digital marketing solution from the enterprise market leader.
What We Do
Experienced SAP CX Professionals
SaM Solutions understands the complexity and knowledge needed to effectively utilize SAP CX (SAP Hybris) solutions. That is why we dedicate some of our most experienced team members to SAP CX.
Beyond SAP CX Technology
In addition to being experienced SAP CX professionals, we have an extensive background in eCommerce domain, IoT, mobile, enterprise CMS platforms, and modern front-end/backend technologies. SaM Solutions can respond to your needs to create custom solutions.
Certified SAP Silver Partner
As a Silver Partner of SAP, SaM Solutions has access to one of the most extensive portfolios of multi-channel commerce solutions on the market.
SAP CX Team Growth
SaM Solutions has strategically aligned with local universities and organizations to help grow new and seasoned developers in Java technologies and SAP CX (SAP Hybris) platform. Our dedication to new and emerging talent showcases our commitment to a strong future.
Your Trusted Strategic Partner
SaM Solutions prides itself on its high customer retention rate. Some of our original customers have already been with SaM Solutions for over 13 years. Our focus is to continue to create lifelong customers using SAP Solutions.
Global teams for better prices
With a US operations presence since 2004, SaM Solutions manages projects domestically while overseeing global remote teams. This creates a clear communication workflow and availability during critical times, leveraging lower costs for teams located in Eastern Europe.
SaM Solutions' SAP CX and C/4HANA Expertise
5

Years of Experience

50

Software Engineers

25

SAP Certified Specialists

17

Completed SAP Projects
What You Get
Greenfield Implementation
SaM Solutions has completed dozens of unique experiences implementing SAP CX Solutions. Our seasoned SAP professionals can guide any project from inception to optimization.
Project Assessment and QA
With an extensive background in SAP CX, SaM Solutions streamlines the time needed to identify key tasks to build and test successful environments while mitigating risk.
Functional Improvement & Solution Refactoring
Are you looking to optimize your current SAP CX Solution? SaM Solutions can analyze your current solution and make expert recommendations on the latest features, functionality, and performance.
Rollout Projects
With multiple locations in Europe and the United States, SaM Solutions makes it easier to expand operations from a single site to a global scale.
Upgrade Projects
Is your SAP CX running on an outdated or older version? We can help you upgrade with minimal downtime and business disruption. Take advantage of the newest SAP CX functions that optimize your business.
Integrations and IoT
Is there a need to connect digital and real-world experiences? SaM Solutions has created an innovative cross-technology lab featuring IoT and embedded software expertise, E-Commerce, Mobile, and CMS solutions.
Toolbox
Languages and Frameworks
Java Spring (Core, MVC, Integration, Security), Jquery, Node.js, Angular, Spartacus, Vue.js
Authentication
SAML, LDAP, Oauth
Integration
SOAP, REST, Odata, DataHub, SAP Cloud Platform Integration, HotFolder
Build & Automation
SonarCube, Checkstyle, Pmd, Findbugs, jenkins, GitLab, Git, Selenium, SoapUI, JMeter
Project Management and Architecture
Jira, Confluence, MS Project, draw.io, EA, MS Visio
Deploy Mode
On premise cluster, Cloud (AWS, Azure, SAP Cloud), Vagrant, yaml
Databases
MySQL, SAP HANA, Oracle, MS SQL, MS Azure SQL, Amazon Aurora on AWS, HSQLDB, MariaDB
Our Team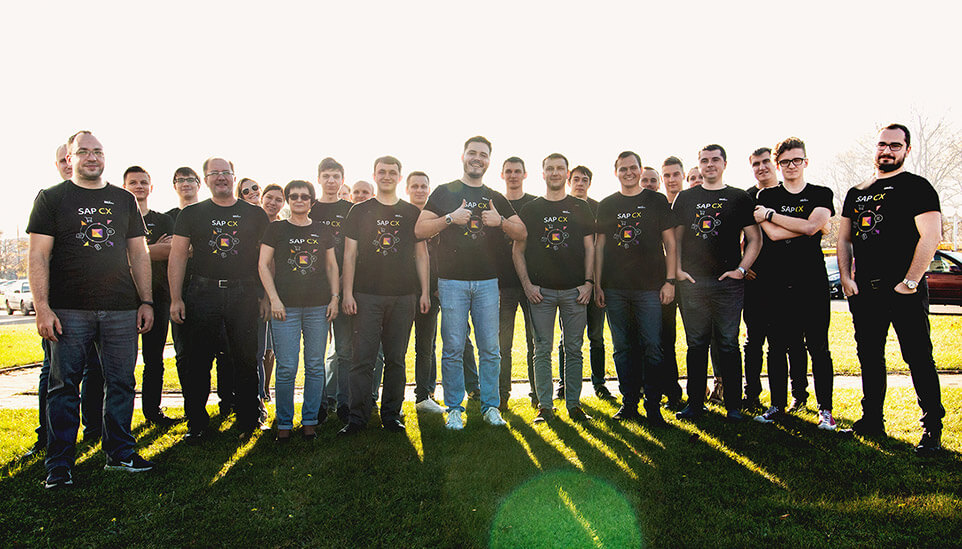 Our core treasure is our team of bright and dedicated people. Diverse, multicultural SaM Solutions` society creates a unique atmosphere of cooperation and great team spirit - key success factor in Services business.
Technology Partnerships