Editor's note: As a bespoke software development company with over 30 years of experience, SaM Solutions has successfully helped many businesses. Among our clients are well-established corporations such as Fujitsu, Siemens, CBC National Bank, and promising tech startups like Sun E Mates and KORU. If you want to outsource your software project, feel free to contact us.
According to the latest Deloitte data, businesses spent over $700B on outsourcing in 2022. The biggest segment of outsourcing is software development, projected to reach $519B in spending by the end of 2023.
These figures aren't surprising. After all, any business, regardless of the industry, needs software and many choose to outsource their development projects. They do so for a variety of reasons, including lower development costs and rapid access to a large pool of IT professionals.
But with so many IT firms out there, choosing the right vendor is a difficult decision. The goal of this article is to make your choice more informed and confident. Read on to find the answers to most of your questions about the IT company selection process and learn the tips for choosing a reliable vendor.
Are you looking for outsource software development? Get a free consultation and estimate from tech experts!
What Outsourcing Software Development Implies
Outsourcing is a business practice in which a company hires a vendor to provide services for them instead of using in-house resources. Outsourcing has become mainstream for companies in almost every industry: businesses often outsource call service functions, bookkeeping and payroll processing.
When it comes to IT, the most commonly outsourced function is software development. Instead of tasking their in-house team – or even building the team in the first place – businesses prefer to hire an IT company that develops a software solution or a product for them.
Benefits of Outsourcing Software Development Services
By outsourcing software development, companies get a range of benefits that help them stay competitive in a rapidly evolving business landscape. Here are only some of them:
Cost savings. You save money on benefits, office space, and equipment necessary for an in-house team by temporarily hiring a vendor instead.
Faster time to market. Outsourcing can speed up the development process and help you bring products and services to market ahead of the competition.
Focus on priority tasks. When your in-house team isn't overwhelmed with tasks, they can focus on their core competencies and strategic initiatives.
Access to global talent. You can tap into a global talent pool and access specialized expertise that may not be available to you locally.
Scalability. With outsourcing, you can scale development teams up or down depending on your business needs.
To learn even more benefits and understand the specifics of software outsourcing better, check out our comprehensive guide to software development outsourcing.
Selecting a Software Development Company: Key Steps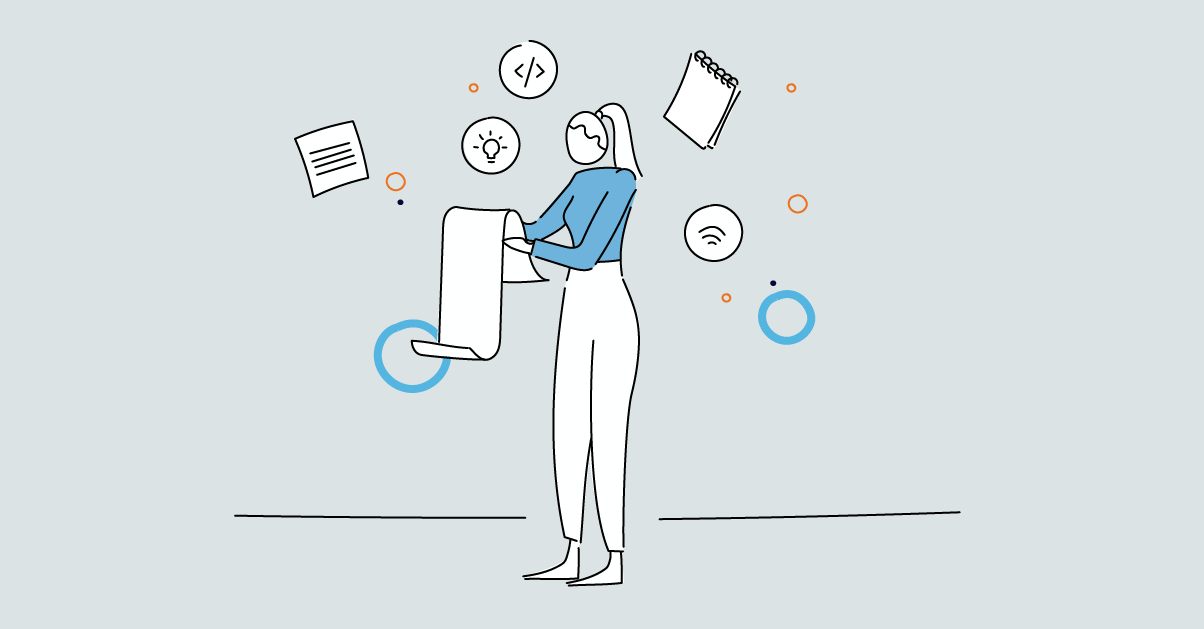 To choose the right development firm for your project, you need to do it carefully and step by step. For your convenience, we've put together a detailed strategy with four major stages.
Planning. Start with creating a thorough understanding of your requirements before you begin looking for an IT development company. Write down your vision, list clear expectations, define your budget and set a time frame for the project. This way, you'll be able to communicate your requirements more effectively and find the software company that best meets your standards.
Searching. As soon as you know your own needs, you can start your search for the candidates. A simple Google search is a go-to strategy but your friends, coworkers, and business partners can also be extremely helpful in getting referrals for a vendor. Another way is to examine B2B ratings and review platforms like Clutch and GoodFirms.
Pre-selection. Now that you have a dozen candidates, ask them to provide a project quote for potential development cost and time. Compare it with your planned budget and deadlines and filter out those who don't meet them. As a result, you'll have a few potential partners on your list.
Evaluation and shortlisting. Since it's impossible to devote sufficient time to a thorough analysis of each of the vendors, you need a shortlist of candidates for final consideration. For this purpose, you need to pick the strongest of them, two or three firms, based on certain criteria (industry knowledge, rates, location, etc.) and ask them for detailed proposals.
What to Consider Before Choosing a Software Development Company
Searching and preselection tips
As steps 2 and 3 above suggest, you should make your decision based on careful research. When you browse for a suitable vendor, SaM Solutions recommends you prioritize the following:
Portfolio. Examine the software service company's portfolio to understand what types of projects they worked on in the past. When you see projects similar to yours, check out related case studies to see how the project was set up.
Testimonials. Take a look at the vendors' online feedback and reviews to learn about their past clients' impressions. Were they satisfied with the timing, quality, and communication during the project? Check their social media presence and visit directories similar to Clutch, too.
Location. Choose between onshore, nearshore, and offshore options. Onshore implies a nearby location of your vendor and the greatest work time overlap, but comes with higher costs. Offshore development helps significantly reduce expenses but offers fewer hours of overlap. Nearshore – with a closer location and lower costs – can be a happy medium.
Evaluation and shortlisting tips
The fourth step of the selection process implies even deeper research. We suggest scheduling calls with your prospective vendors and getting answers to the questions we list below:
What development methodologies do they use?
For instance, at SaM Solutions, we use variations of Agile software development methodologies, Scrum, Kanban or Lean frameworks, and project management methodologies like PMI, Prince2, and SAFe. The choice of the methodologies always depends on customer needs and preferences.
Are they experienced in the domain in which you are going to launch a project?
If a potential vendor has projects like yours in their track record, the development team will be able to use some valuable insights and solutions from their experience. Oftentimes, many projects aren't mentioned in the openly shared portfolios due to NDAs, so don't hesitate to explicitly ask vendors about possible past projects in your domain.
What technologies do they specialize in?
To be implemented, your project needs a set of technologies, such as programming languages, frameworks, libraries, and databases. Your future vendor should not only have experience with a wide range of software development technologies but also be competent enough to help you choose the right tech stack.
What project management tools do they use?
Tools like Jira, Confluence, Trello, or Asana are excellent for collaboration and managing everyday project tasks. What's more, these software packs help to track progress and will let you always stay in the loop with your vendor.
Are you looking for outsource software development? Get a free consultation and estimate from tech experts!
Expert 10 Tips for Choosing a Software Development Company
Still feeling hesitant to make the right choice of a future vendor? We have more tips to offer, regardless of the selection step you have trouble with.
Tip 1 – Don't look for the "best software development company"
Don't look for a perfect development firm – just like perfect job candidates, they don't exist. Focus on searching for a company that can meet your business and project needs in the most convenient and efficient way possible.
Tip 2 – Don't opt for the cheapest option
Extremely affordable services – as lucrative as they are – may eventually disappoint you and leave you with very underwhelming development results. While you may be on a tight budget, make certain that you do not compromise software quality by choosing the cheapest vendor.
Tip 3 – Try out the software a potential vendor already delivered
If you have any information on the vendors' specific past projects and can try out the software they delivered, go for it. Assess the main characteristics of their web, mobile, desktop, or IoT apps, paying attention to response time, load speed, usability, and lack/presence of bugs. Needless to say, avoid the vendors whose apps you weren't particularly impressed with.
Tip 4 – Get to know the team
Talk to as many members of your future team as possible – project managers, developers, and QA engineers are the bare minimum. Describe your project to them, let them understand your pains and goals, and observe if they are just blindly following your requirements or suggesting some new ideas. If they're improving on your thoughts and requirements, it's a clear sign that the team is ready to go the extra mile and ensure the highest quality of their work.
Tip 5 – Arrange in-person or virtual meetings
Nothing compares to meeting the team in person, getting to see how they work firsthand, and feeling their attitude and engagement in order to find out if there is alignment between you and them. At best, you can visit their offices and spend some time together during meetings or workshops. If this is not possible, video calls can be a decent substitute.
Tip 6 – Take language barriers into account
As we mentioned before, you can't achieve your project goals without properly conveying what you actually need. But if there's a language gap, there's always a risk that software developers will misunderstand your messages. Therefore, it's critical to make sure that the outsourcing team has a sufficient level of English or your other native language.
Tip 7 – Launch a PoC or an MVP development project
It's prudent to dip your toe in the water before hiring a vendor for the entire project. By employing a technology partner to deliver a PoC or an MVP first, you can safely and confidently estimate developers' performance and skills. After getting some tangible results from this short cooperation, you can decide whether you can trust the vendor to perform the end-to-end implementation.
Tip 8 – Double-check a vendor's cybersecurity competence
Make certain that the vendor of your choice takes cybersecurity seriously, especially if your application will handle sensitive data. To keep your project safe, you must ensure that the software development company of your choice adheres to the most recent security protocols that comply with internationally accepted standards.
Tip 9 – Go for offers that include support and maintenance
Don't settle for a vendor that will simply hand you the product and leave you with no action plan for the future. To get the most out of the software, you need a maintenance strategy and a long-term software evolution plan. So, make sure that they provide support and maintenance services too.
Tip 10 – Pay attention to how a vendor responds to your initial request
The way a software development vendor responds to your initial request also matters. Pay attention to:
Response speed (the faster, the better)
Presence of clarifying questions
Level of professionalism in communication
Willingness to set up a phone call or a meeting
All these points can give you an idea of a vendor's openness to discussions and eagerness to do business together.
Why Outsource to SaM Solutions
With over 30 years in the IT market, SaM Solutions has built a network of offices worldwide to serve customers in different regions and time zones. Our primary geographies are the US and the EU, including Germany, the Netherlands, Poland, Lithuania, and Latvia. Wherever you are, we are close to you and speak your language, so time zone issues and communication barriers won't bother you during our collaboration.
By working with us, you also get access to a large pool of IT talents at affordable rates. Our development centers in Eastern Europe and the EUenabled us to consistently build highly qualified dedicated teams that include:
Business analysts
UI/UX designers
Software engineers with diverse skill sets
Project managers
QA engineers (for manual and automated testing)
DevOps engineers
We offer a wide range of services, including IT consulting, startup support and a full suite of custom software development services:
Front-end web development (JavaScript frameworks including React, Angular, and Vue).
Back-end web development (including Node.js, Java, .NET, Python, Ruby, Cobol, PHP.)
Development of desktop applications (.NET, Java, Qt/C++).
Contat us and learn more about our competencies first-hand. Or, if you need more proof of our expertise before getting in touch, check out our case studies.
Are you looking for outsource software development? Get a free consultation and estimate from tech experts!
F.A.Q.
What mistakes to avoid when choosing a software development company?

One of the most common mistakes is not conducting deep enough research. The better you evaluate vendors that have caught your eye, the better your chances of getting a good partner. Take your time and go through their portfolio, case studies, customer feedback, testimonials, and Clutch rating.
What are the tips for choosing a software development company?

In addition to the tips described in the text above, here you'll find a few more:

The majority of software development firms begin with consultations or product discovery workshops to ensure that both parties are on the same page. Avoid those who want to dive right into development, unless your project is small.
Make sure that you will own the rights to your software's source code.
Ask whether the companies work under non-disclosure agreements.
How to successfully outsource software development?

To successfully outsource software development, you need to be able to interact with a remote team effectively. Before the start of the project work, ask about how your collaboration will look like and define the metrics you want to track (for example, the number of defects per 1,000 man-hours) to make sure that your business and quality goals are met.