If you need a mobile or web application, it is most likely that developers working on your project will use React (aka React.js or ReactJS), a JavaScript library, to build user interfaces.
Currently, React is in high demand in the front-end development market, being used by over a million websites, including Airbnb, BBC, PayPal, Netflix, and, of course, Facebook, which developed this technology.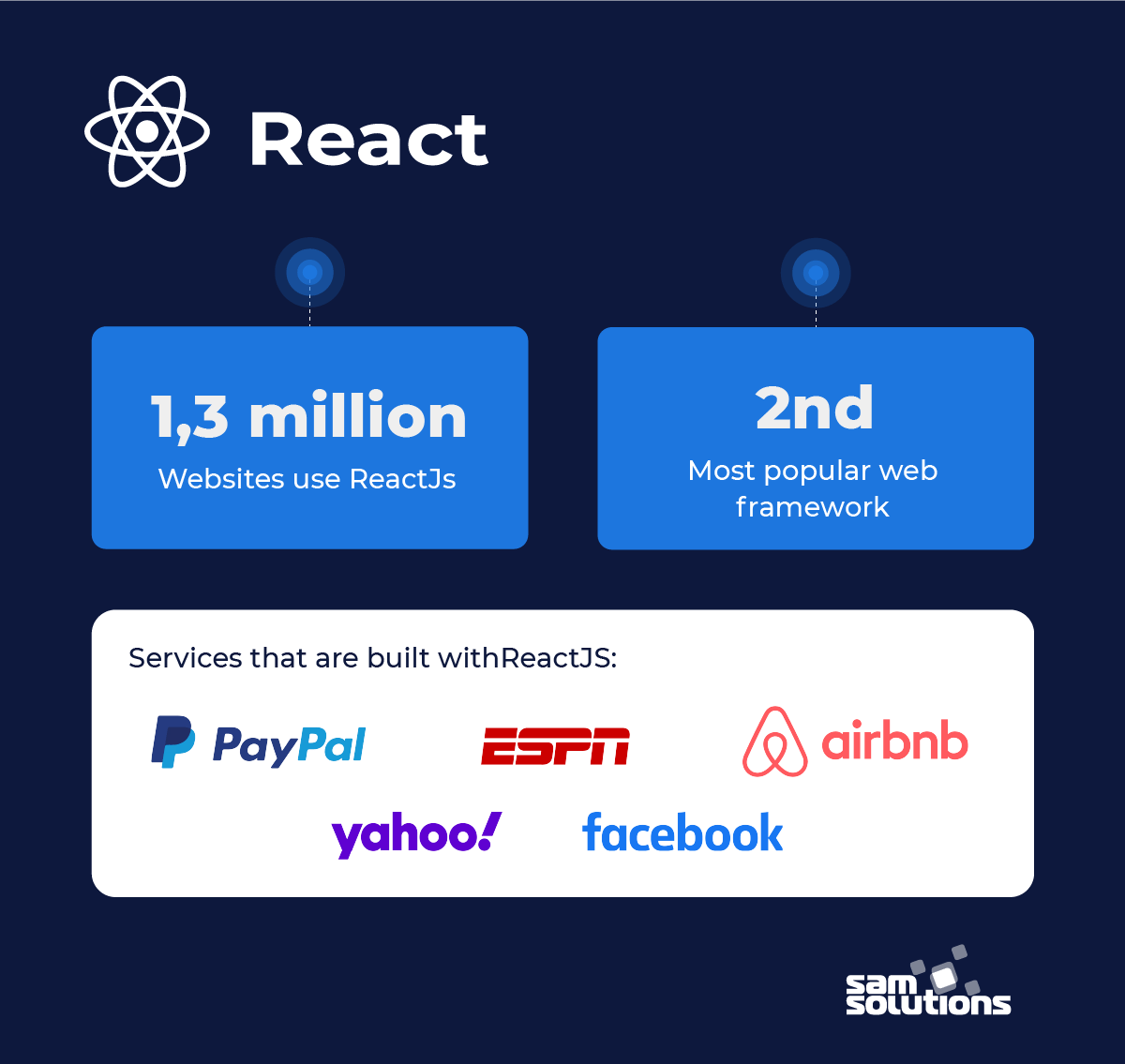 The appeal of React is no mystery. You can read about this in detail in our previous post, in which you will also learn what React.js is.
However, more importantly, it often raises the question of whether it would be better to outsource your project to a React development company. And how can you make the most of such outsourcing advantages? You'll find all of the answers right here.
We are a development company with over 28 years in the software engineering business. React is one of our core technologies, and many of our clients rely on us for React.js development.
So, without further ado, let's go over some of the advantages of outsourcing React development to remote programmers.
Cost-effectiveness
In most cases, cost-effectiveness is the main reason why companies outsource their software development processes instead of hiring an in-house team.
With outsourcing, you don't have to spend money on a lengthy recruitment process (FYI, hiring a software engineer takes 35 days on average with at least 30 interview reviews in the USA), training of new hires, employee benefits, and health insurance, as well as on additional infrastructure, office space and equipment.
This is particularly true for nearshore or offshore outsourcing. Under this strategy, you can take advantage of the cost of living difference between developing and developed countries.
For instance, the cost of living in New York or London is way higher than in Eastern European countries like Poland, which have established themselves as reliable outsourcing locations. A lower cost of living usually means a lower cost of working because of the developers' lesser salary sufficient to cover their basic expenses.
For example, according to Payscale, the average salary of a React developer in the USA is $94k per year, while in Poland it is equal to just about $23k.
Cost savings are especially important when you have a tight budget (e.g. you are a startup or small or medium-sized business), when you cannot afford hiring a permanent in-house software developer in your local market.
Faster project start
When you hire a remote ReactJS web development company, you will get a contract specifying the timeframe for the project. In case of any delay, the firm will be liable. So you can rest assured that your web or mobile app will be released on time.
Furthermore, in case of a tight deadline, the development firm can involve more hands for the work on your project. Therefore, hiring a team of remote React web developers will allow you to deploy your product as soon as possible.
Lower risks
As mentioned above, in case of outsourcing, you will have a contract signed with a development firm. With a written agreement, you can shift the responsibility for any risk on to the contractor. For example, the risk of a delay, the risk of bad quality, etc. Therefore, you will be legally protected against unwanted outcomes.
In addition, hiring a reliable development company means that you will be working with experienced project managers responsible for leading the project team. This reduces the risk of your project going wrong.
Flexibility
Business owners will value the ability to work with an outsourcing firm only when necessary. It's a perfect choice if you have or anticipate a slow season or if you are handling specific projects on a tight budget. In this case, paying full-time in-house React developers, hiring and firing them on a year-round basis will be far more expensive than engaging a remote team.
Need help building a desktop or web application with an innovative concept?
Access to the latest/niche technology
When you outsource a React development project, you gain access to the most trending tools and technologies, which results in a better product. A good React developer on an outsourced team is well-versed in a wide range of technologies and techniques. Their skills can enable you to create a highly effective solution.
Free up internal resources
Hiring outside developers will free up your employees and allow them to devote more time to the tasks that are critical to your company's growth. You will also be able to use the knowledge and skills of your engineers on new complex projects.
Focus on the core business
You don't repair your toilet yourself when it's leaking, right? Instead, you call a plumber to get it fixed.
As a business, outsourcing React.js web development to an external dedicated team will help you free up your schedule and resources to focus on what you do better than others, on your core competencies, and take the time to become the best in these areas. This creates value that cannot be copied or replicated by anyone else, laying the foundation for better sales and higher revenues.
Scalability of a dedicated team
When businesses see opportunities for expansion, a lack of available workers frequently creates challenges in fully utilizing the opportunity. Expanding a business team takes time, and there is a high risk of missing out on lucrative growth opportunities.
Similarly, if a manager overestimates the project's potential, reducing the number of people involved is a painful and exhausting process.
Working with remote React developers gives business owners more flexibility in both directions — you can easily add more team members to the project or terminate the collaboration once it is no longer relevant with no repercussions. Outsourcing, as you can see, encourages business owners to make risk-free decisions.
Quality of the work
No doubt, quality is now king. It is critical to generating revenue. So you'll probably want the best of the best for your product. This is more than possible with outsourcing, because reliable software companies have internal practices and standards that have been developed through multiple projects and shared among their employees.
Wider talent pool
The IT industry is now on the rise and every year requires more and more skilled staff. As a result, the market has become more competitive and the competition for tech talent has intensified recently in many countries, especially in Western Europe and the US.
The good news is that with outsourcing you no longer have to recruit within the small radius of your office or wait for a local IT guy to get out of his current job. Instead, you've got access to countless remote skilled developers around the world that can handle your project.
Why choose SaM Solutions as your outsourcing React JS partner?
If you want to build a high-quality web or mobile application, outsourcing its development is a great way to do it. Work with us and we'll make it easy and secure.
With over 29 years in the software engineering business, we've built a network of offices worldwide to serve customers in different regions and time zones. In particular, our presence covers the U.S., Western Europe (Germany and the Netherlands), and Eastern Europe. Wherever you are, we are close to you and speak your language. Therefore, time zone issues and communication barriers won't bother you during our collaboration.
We offer a wide range of services, including front-end web development using React.
Contact us and you won't be disappointed. This is confirmed by over 20 of our clients with 15+ years of partnership.
Need more proof? Find our customers' reviews on Clutch where we are rated 4.5 out of 5 and read our case studies.
Сonclusion
There are most likely a plethora of other reasons to outsource React web development. All of these advantages, in addition to cost-effectiveness, flexibility and others mentioned in this post, add true value to outsourcing relationships. Industry-leading software companies, like any highly specialized service provider, can provide you with access to a whole new level of knowledge and expertise that would otherwise be out of your reach.
If you want to develop a high-quality web or mobile application using React and see if we are a good fit, drop us a line schedule a free consultation.
Ready for a chat with our experts?
F.A.Q.
Why do companies choose to outsource work, in particular software development?

There is no single correct answer to this question because the reasons might be different depending on the company's needs. Some of the most common motives include the following:

Reduce costs
Get access to larger pools of IT talents
Free up in-house resources for new tasks
Improve the company's business and/or customer focus.
Why should you outsource ReactJS development services?

The reasons for this can be different. For starters, it is flexible. Especially in case of a low season or multiple projects with a tight budget. You don't need to pay full-time in-house React developers, hire and fire them on a year-round basis. Instead you can engage a remote team when needed only. In addition, you can speed up the development process, save money, mitigate risks, and free-up your internal resources.
How to outsource React Native development?

To outsource React Native development, you must first decide on what you can and cannot outsource, then conduct research on potential contractors, pick the best from them and sign a contract. Now the development team can start working on your project. Once it is ready, you should check and accept the result.