The number of people making purchases online is rapidly expanding; in 2017, 9% of all retail sales (in the US) were completed online. Fast forward to 2020, and that percentage has increased to 16%.
Globally, the numbers are even more noteworthy – with around 25% of the world's total population shopping online. While this has been great for web-based businesses (as well as those who've placed an emphasis eCommerce), it's introduced a glaring need for robust solutions that can handle the amount of growth the market is currently experiencing.
Drive your digital transformation to the next level with our world-class cloud migration and development services
Sitecore, a leading vendor in the digital marketing sector and customer experience space, is expanding into the world of eCommerce with its new generation Sitecore Experience Commerce solution. Following its great success in customer experience with its Sitecore Experience Platform, the vendor is utilizing its most successful technologies to penetrate the enterprise eCommerce solutions market, which has long been dominated by major players like Salesforce, SAP, and Adobe.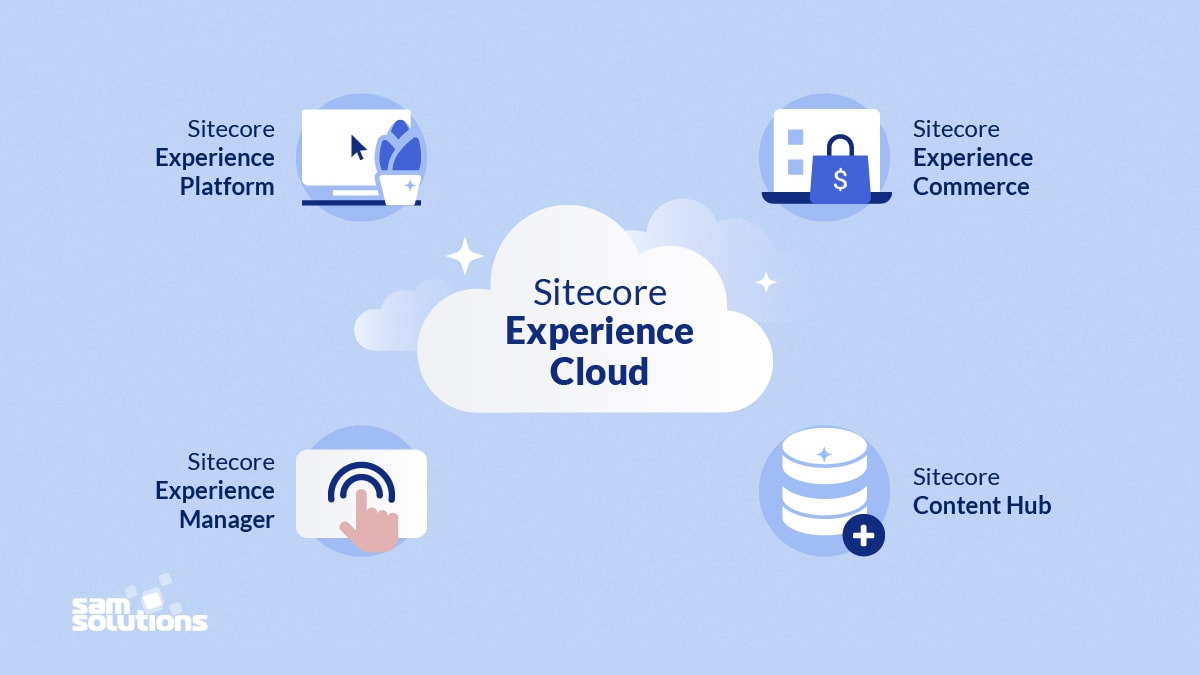 To understand the numerous benefits of Sitecore Experience Commerce 9, let's first overview the best features of Sitecore Experience Platform 9.
What Is the Sitecore Experience Platform?
Sitecore Experience Platform combines powerful solutions for crafting and distributing personalized digital content and is powered with headless and omnichannel technologies, as well as AI-driven marketing tools. In addition to building analytics, this combination of features allows businesses to deliver personalized, multi-channel content to their audiences.
When it comes to personalizing your customer's journey, there's no other platform that offers a wider range of features, tools, and integration capabilities than Sitecore. Through a combination of content management, customer experience management, and commerce solutions, Sitecore has positioned itself as an industry-leading vendor in digital commerce.
Thousands of medium to large businesses across multiple industries trust the Sitecore Experience Platform 9 to deliver a clear brand message, optimize their customers' experience, and provide them with a powerful backend system that can handle the needs of digital marketing in a world that's becoming increasingly digitized.
While Sitecore has had an Experience Platform product for several years, due to technological restraints it was a far cry from what's offered in Sitecore Experience Platform 9. Below we cover some of the primary benefits of Sitecore XP, and also take a look into some of its back-end features.
Benefits of Sitecore Experience Platform 9
One of the biggest challenges that brands have had in managing their digital marketing strategy is not being able to combine customer experience, deep personalization, powerful omnichannel content distribution, high scalability, and powerful marketing tools into one cohesive system – which is exactly Sitecore Experience Platform 9 provides.
Rather than compiling segmented datasets across several channels, brands are now capable of seamlessly integrating customer data with marketing to create highly personalized customer journeys. This is what Sitecore XP 9 is really all about: personalized customer experiences across multiple channels.
The ability to create unparalleled customer journeys is the main benefit of Sitecore XP 9. Some of the specific features included in XP 9 include the following:
Provides a single management platform for implementing personalized customer journeys across all of your brand's content channels.
Customer journey data is stored in a central location for quicker (as well as easier) data management and analysis.
Headless CMS architecture translates to faster content production and the ability to produce content at scale across several channels at once.
Integral AI and machine learning-based analytics and optimization tools.
Below is a detailed overview of additional Sitecore Experience Platform 9 features:
Sitecore Content Hub and XP
Sitecore Content Hub is an innovative content management tool that allows organizations to seamlessly produce, distribute, and manage their content (all from one single location). Most organizations spread their content across multiple departments, which makes effective management very difficult.
This is where Content Hub comes into play – it allows your organization to effortlessly collaborate, deliver, and manage content across all of your brand's channels (and it's fully integrated with Sitecore Content Experience 9).
Personalization for Enhanced Customer Journeys
If you're not personalizing your brand's message, you're losing out on a massive opportunity to increase your conversions. Sitecore XP doesn't just tailor content to specific audiences, it has the ability to create highly personalized journeys directly to specific visitors.
This level of personalization is what sets Sitecore XP 9 apart from competing systems. Historical interaction data combined with personalized content (driven via AI and machine learning) translates to more enjoyable (and custom) experiences for your customers.
Delivering personalized and contextual content to your audience is essential in the current digital commerce environment. Sitecore XP's AI-based personalization is the only solution on the market that's able to analyze customer data and then automatically segment, create, and deliver personalized experiences to your brand's audience(s).
Sitecore Experience Platform 9's Integration With xDB: Deep Insight into Customer Interactions
From a data management and analysis standpoint, one of the most exciting features of Sitecore XP 9 is its integration with xDB (Experience Database). While many organizations still employ a traditional approach when it comes to managing customer data (i.e. data that's siloed rather than reciprocal), xDB (which is included in XP 9) allows for the seamless collection, storage, and analysis of customer interaction data (across all of your brand's content channels).
Being able to manage customer data from one central system allows for a much higher level of data analysis and management. xDB has a variety of benefits over traditional data management/storage systems:
Cloud-ready with large storage limits
Collect data from multiple sources and manage it from a single system
Storage of customer-specific interaction behavior from all channels
Provides the foundation for high-level personalization of content and marketing via XP 9
Sitecore Experience Optimization
One of the major benefits of being based on a headless architecture is the ability to deploy content assets on the fly, gather results, and tweak future content production based on those results.
Sitecore Experience Optimization is a tool within XP 9 that allows you to test content (and then analyze it) so that you can deliver engaging, relevant, and contextual content to your audience. You can think of it as a split-testing tool, but it has a much deeper level of segmentation and AI-based analysis features which makes it invaluable for gathering contextual customer engagement data.
For more information on Sitecore Experience Platform please refer to our article "Sitecore 9 vs Sitecore 8: Why You Need to Migrate".
Sitecore Experience Commerce: Personalized Commerce for B2B and B2C Brands
XC 9 isn't Sitecore's first commerce-based platform; however, XC9 does have a variety of new features introduced in Sitecore Experience Platform 9 that have effectively catapulted it into an industry-leading position among digital commerce systems.
Personalized customer journeys, like the ones that can be created and managed in Experience Platform 9, are important. However, equally as important as a customer's journey is their final destination (i.e. your brand's storefront).
One of the primary features of Sitecore Experience Commerce is its ability to create 100% personalized experiences for your customers. XC 9 allows brands to cultivate customer relationships during every single part of the sales cycle through its advanced personalization solutions.
In today's digital commerce ecosystem, in order to truly stay competitive, organizations need the ability to create personalized customer experiences, as well as robust customer interaction data collection, storage, and analysis capabilities. Below is an in-depth overview of Sitecore Experience Commerce 9's main features.
SXA Storefront
Sitecore Experience Accelerator (SXA) allows you to quickly deploy custom web-shops based on prebuilt templates, forms, and other web functions. SXA Storefront features over 40 different drag-and-drop elements, all of which can be easily edited via the tool's simple and intuitive UI.
SXA Storefront is primarily designed for B2C eCommerce brands looking for a cloud-based webshop system that's easily deployable. SXA storefront is also available as an on-premise installation and can be equally as valuable to a B2B organization looking to enhance its deployment of digital commerce assets.
Like most of Sitecore's other products, SXA Storefront has robust data collection and integration features (with one of its primary integration capabilities being with Commerce via Sitecore Commerce Connect).
Sitecore Commerce Connect
Sitecore Commerce Connect bridges the gap between storefront development via Sitecore and external commerce management solutions (i.e. any third-party eCommerce management system that has prebuilt Sitecore/vendor connectors).
Both B2C and B2B brands can benefit from the advanced customer engagement features found within Commerce Connect. Specific examples of how Commerce Connect can be implemented include:
Online sales for B2C brands
B2B product/service pricing (for sales that have numerous variables that can affect the final price)
Advanced B2B commerce functionalities (e.g. situations where customers have third parties purchasing on their behalf, multi-cart sessions, multi-user purchases, etc.).
OOTB Cloud Integration
Sitecore Experience Commerce features built-in integration with Sitecore Cloud Services. Being integrated with Cloud Services means increased personalization capabilities (that are scalable), as well as being capable of high-level customer data analysis for both marketing and commerce purposes.
Increasing Conversions Through Personalized Content and Commerce Experiences
Digital commerce has seen a shift in recent years from focusing on producing broad-based content to personalized (and contextual) content to individual customers (at scale). Sitecore Experience Platform 9 and Experience Commerce are two of the best systems available on the market to transform your brand's digital customer experiences from bland to world-class.
Based on a headless CMS with powerful data-driven analytics, both XP 9 and XC offer your brand the ultimate solution to personalized content (and commerce) production, management, and analysis at scale.
If your business is ready to start delivering impactful and results-driven customer journeys across your content and sales channels, get in touch with us today for a free consultation.
Authors
Dmitry Koshkin

Managing Director, SaM Solutions USA
Drive your digital transformation to the next level with our world-class cloud migration and development services