Thousands of B2C and B2B businesses rely on SAP to provide them with advanced digital commerce solutions. SAP is an industry-leading enterprise software solutions company, and in regards to enterprise-level ERP and commerce software, there's simply no other vendor that comes close to competing with them.
Drive your digital transformation to the next level with our world-class cloud migration and development services
When it comes to SAP in eCommerce, the vendor's primary offering is presented by SAP CX Commerce Cloud (formerly known as SAP Hybris or SAP Customer Experience). SAP CX Commerce covers the entire digital sales process, from omnichannel storefronts, content management, product catalog management, pricing, promotions, and configurations to bundling, order management, and integrations with external systems.
As a part of C/4HANA family, SAP CX Commerce can be integrated with solutions representing classical CRM functions such as customer data management, customer relationship management, and service orders management. Those CRM Functions are covered by SAP Customer Data Cloud, SAP Sales Cloud, and SAP Service Cloud.
By adding SAP Marketing cloud which allows users to plan, execute, and analyze marketing campaigns as well as collect and analyze customer profiles. SAP covers the end-to-end digital sales and marketing processes. Backed by SAP ERP and other SAP solutions C/4HANA truly represents the most powerful set of tools to ramp up your digital business to the next level.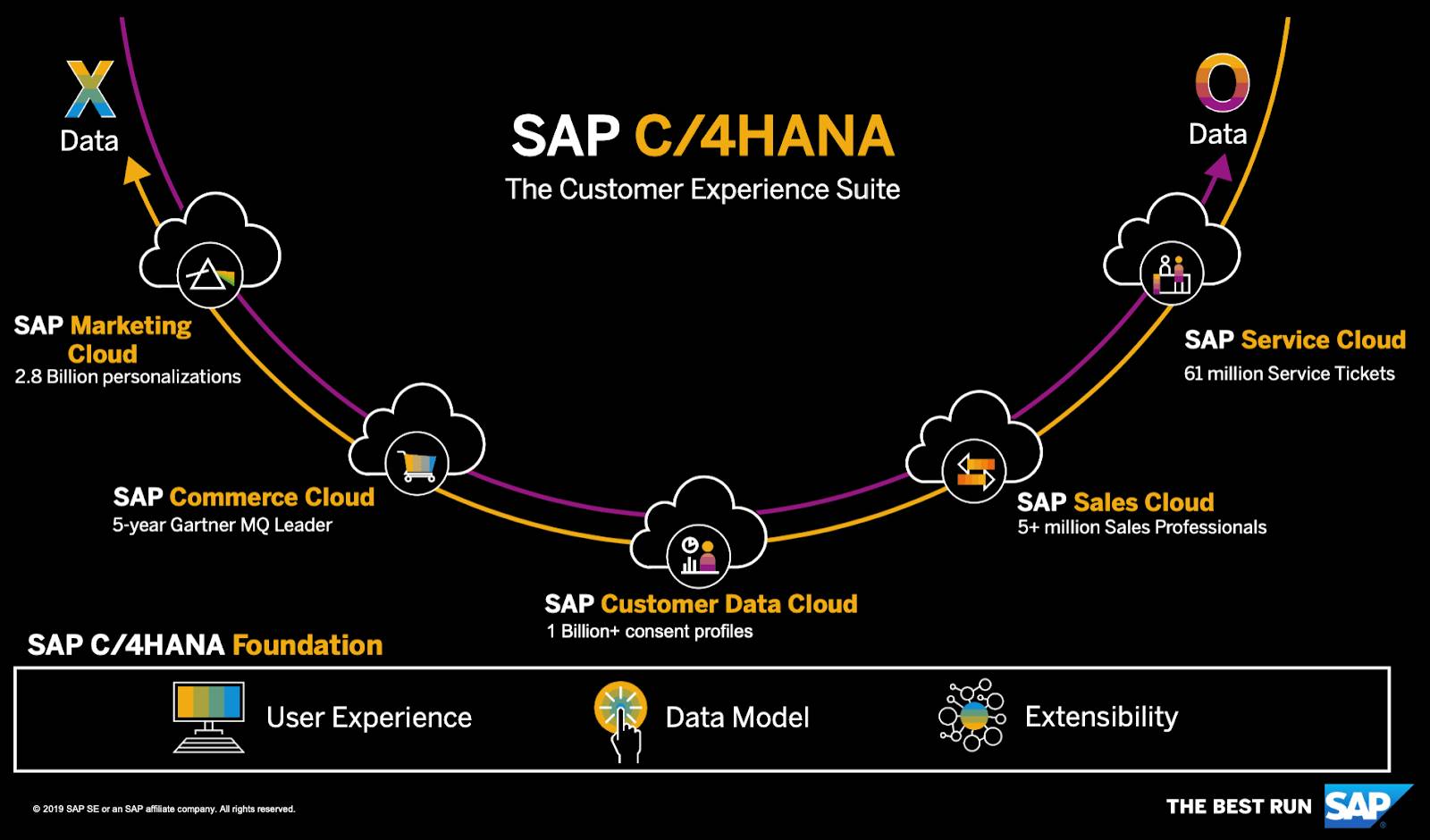 Note. Sourced from SAP C/4 HANA, customer experience suite by SAP, retrieved from. Copyright 2019 by SAP
Why Brands Love SAP Commerce Cloud for Automating Digital Business
Businesses that require a robust, cloud-ready backend coupled with a strong set of frontend tools are the ones that would benefit the most from SAP Commerce. Some of the more noteworthy reasons as to why a business might benefit from SAP CX Commerce Cloud are as follows:
Omnichannel commerce covering all potential customer touchpoints
Comprehensive classical eCommerce functionality: product content and catalog management, experience management, and order management (in one central solution)
Customer experience management and personalization tools
Built-in industry-specific accelerators and business content allowing for faster implementation
Flexibility – Supporting B2C, B2B, and B2B2C business models
Scalability and advanced performance administration tools
High-level customer experience personalization driven by analytics
UX-focused promotional tools (with included templates) for increased conversions
OOTB custom product configuration (via SAP CPQ, ERP, or 3d party solutions)
Strong contextual search system with numerous configuration options
Integration with other SAP C/4HANA family solutions to cover both marketing and CRM aspects of digital commerce
Seamless customer experiences across all device types
Enhanced eCommerce Performance
One of the major benefits that SAP provides to businesses is its ability to seamlessly integrate B2C or B2B customer experiences into one cohesive system. SAP Commerce Cloud is able to achieve this through its omnichannel functionality.
Basic eCommerce capabilities of SAP CX Commerce Cloud include:
Omnichannel storefront
Search and navigation
Product recommendations
Bundling products and services to create unique, personalized offers
Shopping cart
Wish list
Checkout
Enhanced Product Catalog management tools are used to store product information and provide the following functions:
Single storage for all information about the products including attributes, images, editorial content, and video
Multi-catalog support
Multi-language support
User-generated content (UGC) capabilities
Extended workflows and publishing mechanisms
Formerly known as Web Content Management System, Customer Experience module helps manage cross-channel web content (e.g. online and mobile) using a single, intuitive interface.
Intuitive dashboards with drag-and-drop functions allow content editors to publish, update, reuse content across multiple channels without engaging the development team (or changing the source code of the solution).
Built-in Personalization capabilities help to increase conversion rates by tailoring content to a buyer's history and behavior (down to an individual level).
Order management helps manage customer engagement to improve the shopping experience. This module includes such important features as:
Order fulfillment and availability settings
Fulfillment options including sourcing, consignment, complex orders, and
Delivery options management
Customer self-service functionality
Product return functions
Some of the other important functionalities of SAP CX Commerce Cloud include:
Industry-specific accelerators, all of which allow users to develop solutions using premade templates (for faster deployments)
Several OOTB extensions that enable customized solutions for customers with specific needs
Scalable product structure
Multi-website support (as well as built-in support for multiple languages and currencies)
Integral support for other SAP solutions
Checkout process that features advanced customization options
Seamless Integration Between eCommerce Channels
Digital commerce is no longer an area that businesses view as optional – but as something that's one of the most important parts (if not the driving aspect) of their sales strategy. With SAP Commerce Cloud, brands can easily manage every aspect of their omnichannel commerce operations:
Integration between offline shops and web-based commerce
PoS integration
Advanced management of payments, products, services, categories, suppliers, and shipping.
Apart from the aforementioned features, the C/4HANA family also has countless back-end commerce capabilities that can be integrated with SAP CX Commerce Cloud (e.g. SEO tools, AD-driven analytics, built-in marketing solutions such as SAP Marketing Cloud, etc.). The combination of these features makes SAP C/4HANA one of the most complete eCommerce solution suites available.
Modularity That Allows for Total Platform Customization
Architecture flexibility is one of the main things that an organization should look for when choosing an eCommerce platform. SAP CX Commerce Cloud was designed with flexibility in mind from the start and features one of the most modular architectures on the market. This means that content assets can be deployed quickly without altering the existing structure of your brand's current platform deployment.
Considering SAP in eCommerce
To evaluate SAM CX Commerce Cloud as a potential eCommerce platform for your business, you need to consider whether or not that platform makes sense for your organization's specific needs and requirements. There are two main factors that you should keep in mind: affordability and relevancy.
SAP CX Commerce Cloud is the ideal eCommerce solution for businesses that have the following (minimum) financials:
Over $10 million in annual revenue
Over 100,000 web visitors per day
6 to 18-month deployment implementation
Another major aspect to consider is whether or not your business already runs or is considering implementing one of SAP's prime-tier business solutions represented by SAP S4/HANA or C4/HANA suite, SAP Success Factors or industrial solutions by SAP.
If your business is looking for a scalable, cloud-ready eCommerce solution, there aren't many products that can compete with the features, tools, and integrations inherent to SAP CX Commerce Cloud. However, there are some considerations to think about:
SAP development and deployment specialists aren't common
SAP is what's known as a "closed development platform" – meaning technical resources aren't as widely available as some other options like Adobe Magento.
Per recommendation by SAP, potential clients should first perform an in-depth evaluation and feasibility phase before any purchase decision is made in regards to using SAP in eCommerce.
Probing the feasibility of a project is important to accurately gauge its potential for success. The customer's specific needs must be carefully analyzed, which will then allow for the delivery of a balanced, credible review that will identify which platform is best for that customer.
During the software evaluation/selection phase, the SAP pre-sales team (or the partner's team) offers expert assistance through the following:
Responding to RFIs/RFPs
In-depth demonstrations of products
Performing gap analyses of operational requirements and SAP CX Commerce Cloud offerings
Software cost projections (depending on a company's required volume, servers, additional services, etc.)
Projections for the cost of implementation (via a SAP CX Commerce Cloud implementation partner)
Estimates for training requirements as well as maintenance costs
Upon completion of the assessment, there will be a comprehensive overview of the SAP CX Commerce Cloud software selection and purchase process, which can be used as starting points for the project's beginning.
SAP CX Commerce Cloud: Conclusions
There are not many competing companies when it comes to SAP's various product lines. SAP CX Commerce Cloud builds on the company's stellar reputation through its countless features, integrations, and functionalities.
Omnichannel eCommerce deployment, numerous accelerators with a wide range of functions, and a modular architecture all translate to SAP CX Commerce Cloud being an excellent platform for any large and mid-sized business looking to scale their digital commerce channels.
However, because many of its features require in-depth knowledge of SAP development, it's highly recommended to use a SAP-partnered solutions provider to handle your organization's deployment and management of SAP CX Commerce Cloud.
SaM Solutions has decades of experience in working with SAP's full suite of products. If you're interested in implementing a SAP CX Commerce Cloud deployment for your business, get in touch with our team of highly-trained SAP experts today to get started with building your custom eCommerce solution.
Authors
Dmitry Koshkin

Managing Director, SaM Solutions USA
Drive your digital transformation to the next level with our world-class cloud migration and development services