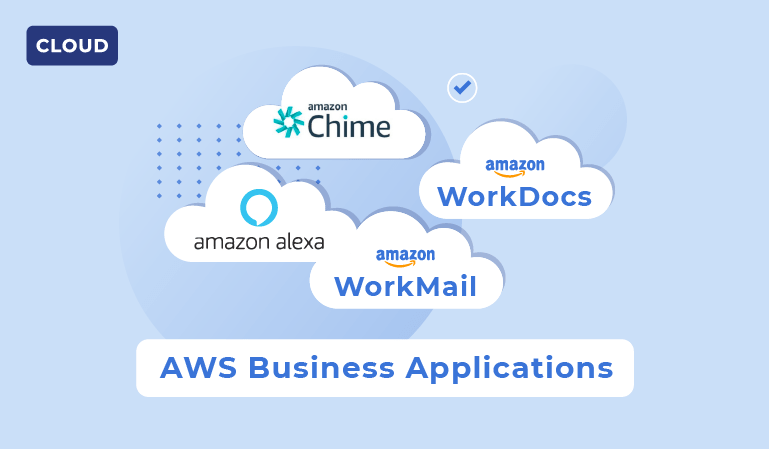 It is common for organizations to associate AWS with behind-the-scenes AWS cloud services and Amazon AWS managed services, before all else. However, Amazon offers a number of business productivity and office solution applications, as well. These applications serve as strong competitors to industry stalwarts, such Microsoft's Office 365 and Google's free-to-use email, database, and other capabilities. In addition, AWS business applications allow for a more seamless integration with Amazon's other applications.
Drive your digital transformation to the next level with our world-class cloud migration and development services
Compared to other providers, AWS business applications provide a variety of benefits to users. Some of these benefits include:
Centralized problem-solving. Using Amazon Connect, businesses are provided with a cost-effective cloud contact center, which enables interactions that are omnichannel, personal, or AI-powered. Organizations rely upon the contact center to highlight and solve potentially critical problems, as well as to improve the overall user experience.
Top-tier productivity applications. These Amazon AWS services allow employees to work anywhere, while maintaining critical productivity and security standards. Organizations can access this assortment of "pay as you go" productivity apps to enable teams to quickly and securely collaborate on content, check a project's status, and communicate with one another in real time.
Digital marketing and CMS insights. With Amazon Pinpoint, managing outbound campaigns is easier and more efficient than ever. Organizations can utilize personalized messages or basic templates to launch digital marketing campaigns, featuring newsletters, special offers, and a variety of other engaging content formats. Pinpoint even allows organizations to construct multi-step pathways for a fuller customer experience using custom email, channels, push notifications, or SMS.
It is important to note that AWS business applications use a "pay as you go" pricing system, which offers organizations the ability to construct the suite of AWS applications that meets their most critical needs, and pay only for those that continue to see frequent use. These applications also allow on-demand scalability and enhanced machine intelligence, providing users with a highly flexible, insightful way to approach day-to-day operations.
An AWS overview of business applications highlights four critical service offerings:
Alexa for Business
According to Amazon, Alexa can serve as a "digital intelligent assistant" for your company. Amazon's Alexa for Business can be used to help with a number of tasks, including (but not limited to) scheduling meetings, booking conference rooms, taking notes, and much more.
Amazon WorkDocs
Amazon WorkDocs is a cloud-based application that can be used to securely store and share enterprise documents. Perhaps most importantly, it also allows for document collaboration among members of a team, and enables feedback designed to enhance user productivity.
Amazon WorkMail
Amazon WorkMail allows businesses to securely send emails, and organize calendar functions and notifications. The service offers support for other mobile and desktop email applications, and allows seamless integration with contacts, calendars, and emails using other client applications like Outlook, mobile email applications, webmail, and more.
Amazon Chime
Amazon Chime provides businesses and employees with efficient video call, meeting, and chat services. A variety of communication methods are condensed into a simple application, enhancing ease of use and enabling full Alexa integration.
Drive your digital transformation to the next level with our world-class cloud migration and development services